Home
Hi and Welcome!
6-ft Birth ANNOUNCEMENT YARD STORK SIGNS IN Fort Myers, Bonita Springs, and surrounding areas
When a baby is born or adopted, it's a really exciting time for new parents. They often want to share their happiness with others. You can help your friends or family members announce their new arrival by renting one of our beautiful baby signs for their front yard.
We offer a choice of a 6-foot blue or pink stork. Whichever sign you choose, it will look great in their yard and each yard sign comes with a personalized keepsake that the parents will treasure forever.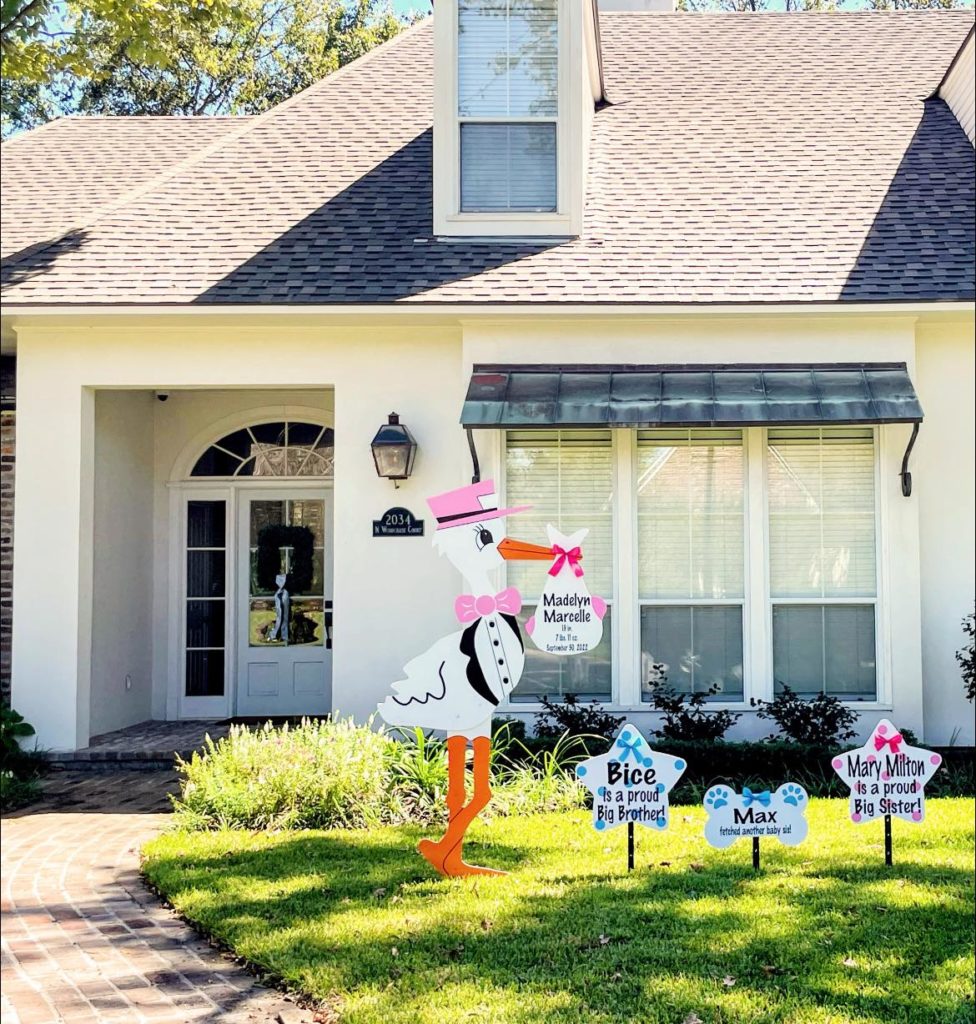 Stork Signs and more
FOR Proud Grandparents & Siblings
The baby's siblings will be thrilled to see their name on a matching yard sign. Our sibling signs proudly declare that they're now a big brother or big sister.
We're not just a stork rental service for new parents, though. Many grandparents rent our stork signs to share the news with their friends and neighbors that their grandchild has arrived.
We are a local family business that has been helping families announce their new arrivals. We would be delighted to help you celebrate the arrival of your special little one.
Stork Signs for Events
Gender Reveals, Baby Showers, and Sip & Sees
Do you have a baby shower or Sip & See coming up? Make it even more special with Storks over Southwest Florida! Our birth announcement storks come in pink or blue and are the perfect addition to any party. Our storks stand tall and proud, announcing your event and welcoming all your guests in style.
Whether it's a baby shower or a Sip & See, our storks are sure to add some extra fun to the occasion. So, why not let our storks do the talking and make your event one to remember? We can't wait to help you celebrate your special day!
Beautiful sign for our new bundle of joy!!! Fast set up, kind and courteous, great customer service! I recommend this to anyone looking for announcements! We are so impressed, Thank You Storks Over Southwest Florida, I'll recommend you again and again!!
Mike & Janelle
SERVING SOUTHWEST
FLORIDA
We deliver storks to Lee County, Florida – Bonita Springs, Cape Coral, Fort Myers, Estero, Lehigh Acres, Alva, Buckingham, Cypress Lake, East Dunbar, Florida, Gulf Coast University, Fort Myers Shores, Gateway, Harlem Heights, Iona, Lochmoor Waterway Estates, McGregor, North Fort Myers, Olga, Page Park, Palmona Park, Pine Island Center, Pine Manor, San Carlos Park, Suncoast Estates, Tanglewood, Three Oaks, Tice, Verandah, Villas, Whiskey Creek, Babcock Ranch, Collier County, Florida – Marco Island, Naples, Naples Manor, Naples Park, Pelican Bay, Pelican Marsh, Pine Ridge, Plantation Island, Verona Walk, Vineyards, Winding Cypress, Fiddler's Creek District #1, Fiddler's Creek District #2, Carnestown, Copeland, East Naples, Jerome, Miles City, North Naples, Ochopee, Vanderbilt Beach, Vanderbilt Beach Estates